Industrial Workstations
Industrial Workstations for Manufacturing and Assembly
Accelerate productivity, improve ergonomics, eliminate waste, and maximize space with UNEX FlowCell industrial workstations. Our modular flow-through workstations utilize SpanTrack carton flow tracks and are ideal for a variety of assembly and manufacturing applications. Parts can be "mixed and matched" to create your ideal solution. Rugged and durable, FlowCell is constructed of heavy gauge steel. This durable solution also increases space utilization by up to 50% and is proven to boost productivity by up to 30%. Achieving peak organization and space savings in an industrial environment is possible with our fully customizable FlowCell industrial workstations.
Durable, High Performing Industrial Workstations
FlowCell's modular design can be configured to meet the needs of any operation and is well-suited for industrial environments. With a cell capacity of 1,000 lbs per level at 8 feet wide and 3,000 lbs total load with casters, plus a track capacity of up to 100 lbs per ft., FlowCell is one of the most rugged and durable solutions on the market.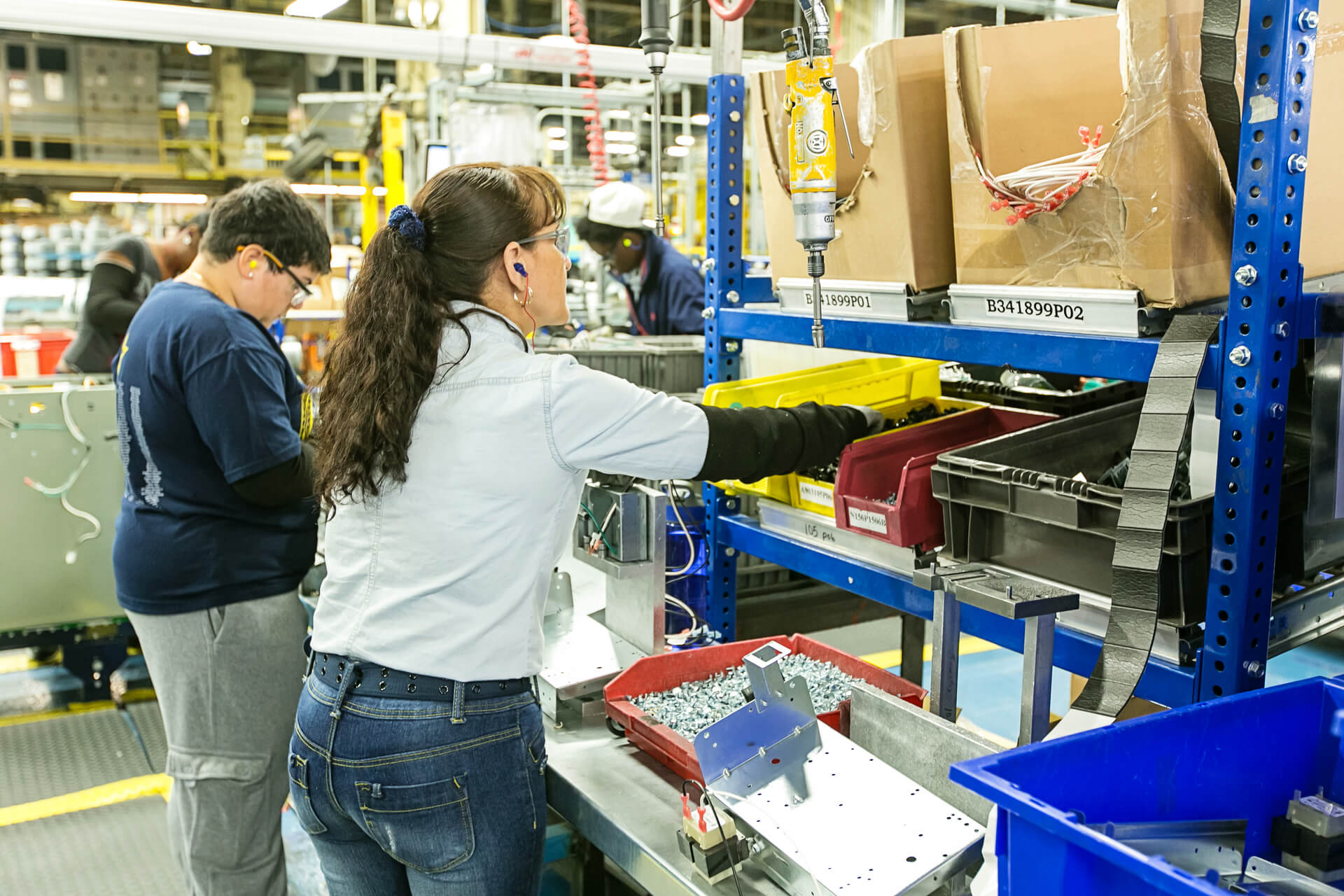 Build a Manufacturing Workstation with UNEX
UNEX designs customized flow-through industrial workstations to meet the needs of any operation. FlowCell posts and beams are available in a variety of sizes, and carton flow track options are endless, with SpanTrack dedicated lane and wheel bed models to choose from. Galvanized steel workbenches are available in 12″ or 18″ deep. Accessories like add-on trays to present inventory to the picker are available in 12″ or 15″ deep. To attach tools, lighting, and other accessories, UNEX offers overhead toolbars. To take your workstation on the go, 4″ casters can be added (rigid or swivel) for extra maneuverability.
In addition to industrial workstations, UNEX FlowCell can also be utilized to create several different flow rack options. From presentation racks and pick trays to lineside storage and single lane configurations, FlowCell units are highly customizable. Create mobile units by adding casters and add handlebars to make maneuvering about the factory floor even smoother. FlowCell offers unparalleled durability and versatility to create modular solutions that are suited for a wide range of manufacturing applications.
Build a Flow Rack with Our Free Design Tool
Build FlowCell modular structures from scratch or choose from existing configurations. These durable, dynamic units will maximize space and step up productivity.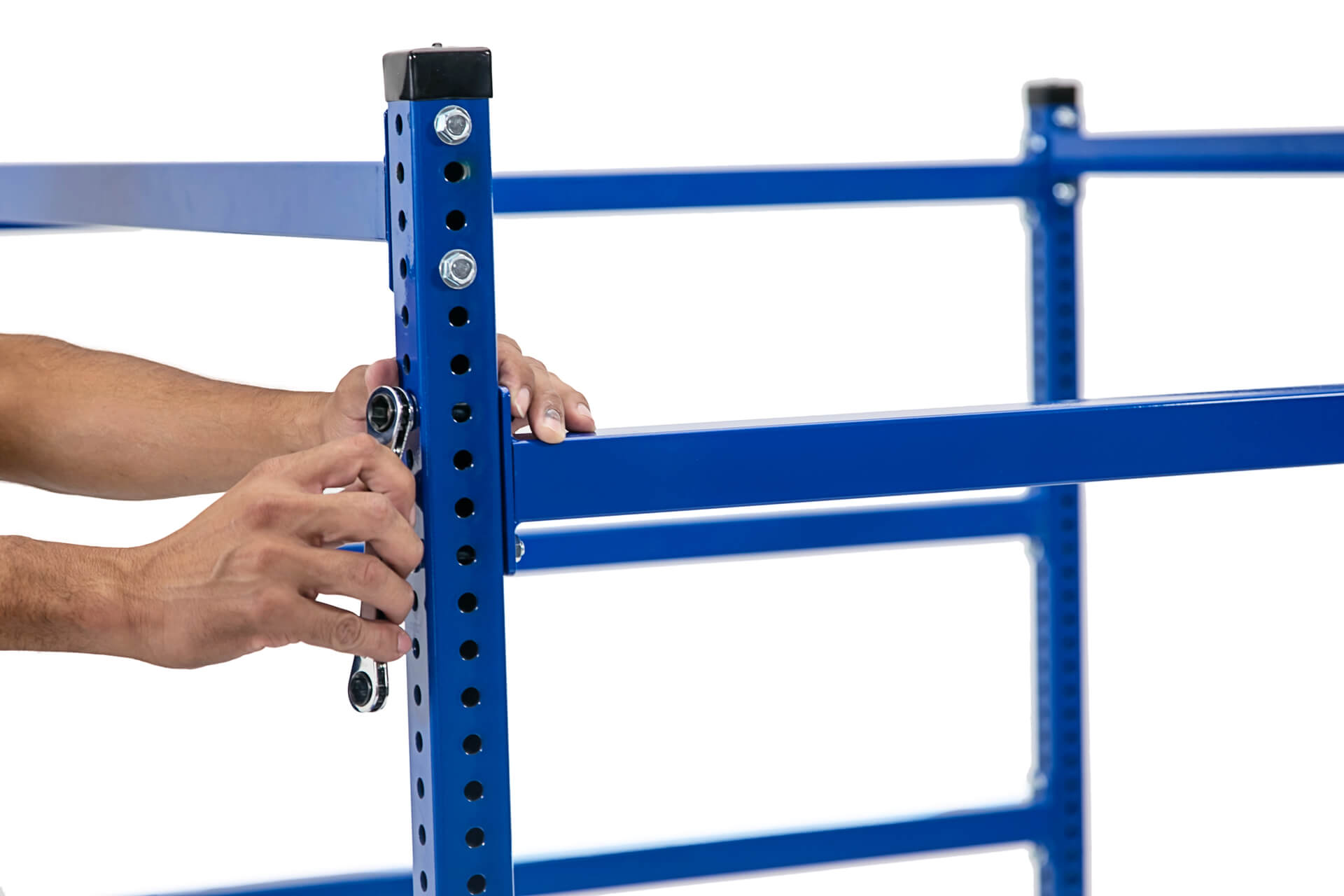 Ready to Connect with an Expert?
Connect with our experts to create an industrial workstation for your manufacturing facility.
Manufacturing Workstations
Durable Design
UNEX builds engineered-to-order industrial workstations that support even the harshest and most demanding manufacturing environments. Our ergonomic workbenches allow workers to remain organized and efficient when assembling, kitting, packing, or testing. Accessories like add-on trays and overhead toolbars provide even more options for designing a solution that will meet your facility's needs.
Lean Assembly and Subassembly
UNEX's flexible and durable workstations support Lean principles and can be tailored to the unique needs of your assembly operations. Keep parts organized and within reach for workers. Create FIFO inventory rotation with replenishment from the back of the unit to avoid interference with assembly processes in front. Keep the factory floor organized with totes and boxes stored underneath the workstation in return lanes.
Explore UNEX Solutions
FlowCell
FlowCell flow racks are modular, dynamic storage units designed for a facility's unique operation. Our durable and portable workstations maximize efficiency and space for lineside storage, sub-assembly stations, supermarket racks, modular mobile carts, and more.
Key benefits of FlowCell include:
Increase space utilization by up to 50%
Boost production efficiency by up to 30%
Keep the factory floor organized
Minimize reaching and improve ergonomics by reducing injury and fatigue
SpanTrack Lane
SpanTrack Lane is an innovative carton-flow solution that drops into new or existing pallet rack structures to create an efficient, reliable, and durable flow system. Depend on a robust and sturdy solution for even the most active warehouses and assembly plants.
Key Benefits of SpanTrack Lane include:
Ensure FIFO inventory rotation
Reduce worker travel time by up to 75%
Optimized for product stacking
Industry-leading 7-year warranty


Connect with an Expert
Speak with the experts at UNEX to learn how FlowCell industrial workstations can help maximize productivity and optimize space in your facility.