Warehouse Packing Stations
What is a Packing Station?
In warehousing and order fulfillment, a warehouse packing station is a workstation used to package goods for shipping. Packing stations usually consist of a workbench with shelves or gravity flow tracks designed to store the materials used to prepare orders to be packed and shipped. Packing supplies such as boxes, envelopes, packing paper, and tape can be stored on packing stations in easy-to-reach locations. Tools like scanners, scissors, tape measures, utility knives, and tape guns are often organized and hung on the packing station for quick and easy access.
Packing stations are commonly connected to a conveyor that aids in the movement of the packages throughout the station and onto different areas of the warehouse. When a packing station is properly connected to a conveying system, boxes that are ready to be shipped can be immediately transported to the shipping area. This helps to save both time and money within your operation.
Packing Station Benefits
A well-designed warehouse packing station will ensure a place for everything in its place. Modular and ergonomic packing stations can increase productivity by eliminating the need for workers to bend, reach, or leave the packing area to retrieve supplies.
Packing stations can be outfitted with various accessories, such as roll storage stands that hold wrapping paper, bubble wrap, or foam. Overhead toolbars can provide a place for scanners, task lights, and other tools to be within reach. Adding carton flow tracks like SpanTrack lane or SpanTrack wheel bed will provide a place to store orders that are ready to be packaged.
Connecting your packing and shipping areas with a simple gravity conveyor system can reduce bottlenecks and eliminate worker travel time. Thus creating a seamless integration between order picking, packaging, and the loading dock.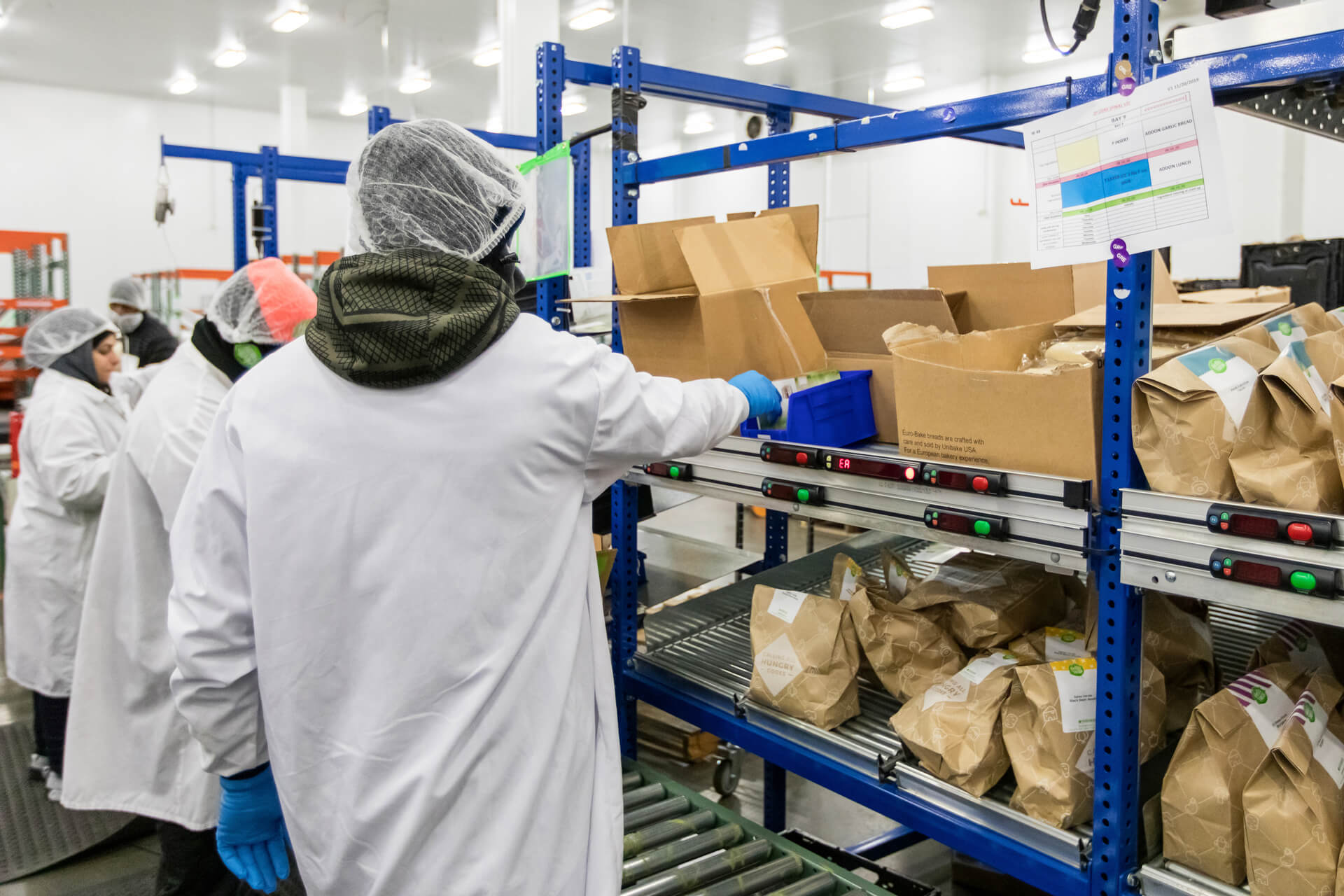 Build a Packing Station with UNEX
UNEX designs engineered-to-order packing stations to meet the needs of even the most demanding operations. Our versatile and durable modular workstation solution, FlowCell, can be configured to suit your specific packaging needs. UNEX packing stations can be flexibly designed as needed, bringing efficiency and productivity to the packing operation.
UNEX packing stations offer room for boxes, filling, packaging materials, sealing, labeling, and manifesting systems. Restocking of supplies can take place from the back so that packers can continue to work in the front.
Galvanized steel workbenches are available in 12″ or 18″ deep. Tools, lighting, and other accessories can be attached to the packing station with an overhead toolbar. 4" casters (rigid or swivel) can be added to make your packing station mobile.
Ready to Connect with an Expert?
Connect with our space optimization experts to create a packing station for your operation.
Modular Warehouse Packing Stations
You can customize UNEX's flexible and durable packing stations to the unique needs of your operation. Keep packing supplies and tools organized and within reach for workers. Replenish supplies from behind the packing station to avoid interference with work done in the front. Prevent bottlenecks in your packaging area by connecting gravity conveyor to packing stations so completed boxes can be easily transported to shipping.
Explore UNEX Solutions
FlowCell
FlowCell flow racks are modular, dynamic storage units designed for a facility's unique operation. Our durable and portable workstations maximize efficiency and space for line-side storage, sub-assembly stations, supermarket racks, modular mobile carts, and more.
Key benefits of FlowCell include:
Increase space utilization by up to 50%
Boost production efficiency by up to 30%
Keep the factory floor organized
Minimize reaching and improve ergonomics by reducing injury and fatigue
SpanTrack Lane
SpanTrack Lane is an innovative carton-flow solution that drops into new or existing pallet rack structures to create an efficient, reliable, and durable flow system. Depend on a robust and sturdy solution for even the most active warehouses and assembly plants.
Key Benefits of SpanTrack Lane include:
Ensure FIFO inventory rotation
Reduce worker travel time by up to 75%
Optimized for product stacking
Industry-leading 7-year warranty


SpanTrack Wheel Bed
SpanTrack Wheel Bed is a flexible carton flow solution that drops into new or existing pallet rack structures to create the ultimate gravity flow rack system for order picking operations, manufacturing facilities, and more.
Key Benefits of SpanTrack Wheel Bed include:
Hex hub wheel design for optimal flow
Store products with a wide variation in size and weight
Increase flexibility for inventory slotting with 90% left to right bay usage
Replenish inventory from the back without interrupting the process in front
Connect with an Expert
Connect with a space optimization specialist at UNEX to learn how versatile FlowCell packing stations can increase efficiency within your operation.