FAQ
How much does a SpeedCell high-density storage system cost?
To give you an idea, SpeedCell costs the same or less per SKU stored compared to static shelving, for example. Pricing varies depending on your space and requirements for your specific application. The best and fastest way to obtain pricing is to use our SpeedCell product configurator. We will send your design straight to your inbox and one of our Space Optimization Specialists can work with you to refine the solution to meet your unique needs.
What is the most commonly used cell size?
Product size can be variable, and operations must accommodate all SKUs, but that's hard to do with a one-size-fits-all approach! Thus, after analyzing millions of SKUs, we've discovered that 12" x 12" is the most common size for most industries. We can even design columns with different-sized cells within the same column.
What is the weight capacity per column? What is the weight capacity per cell?
240 lbs. or 108 kg per column
34 lbs. or 15.4 kg per cell
Can SpeedCell be customized for my products?
Yes! SpeedCell is uniquely designed for each client, and we tailor the size, shape, mobility, and material of each SpeedCell column to solve your exact storage challenges.
There are some limitations on sizes: 6″ is our minimum width, and 24″ is our maximum width.
We offer 2 standard colors of White and Grey. If you have a special color for your facilities, we will gladly order fabric in colors dyed to your specifications at an increased cost and lead time to allow for purchasing materials.
Is there any maintenance required?
No. SpeedCell units are easily cleaned with plain water. For stubborn stains such as pen marks, Goo Gone works wonders. As a bonus, our standard white material is Electric Static Resistant, Flame Resistant, and fully complies with the California fire code. Columns are also easy to install and remove from the tracks, even once your bay is installed, and require only a standard ladder to remove. No special tools are needed.
Companies That Choose UNEX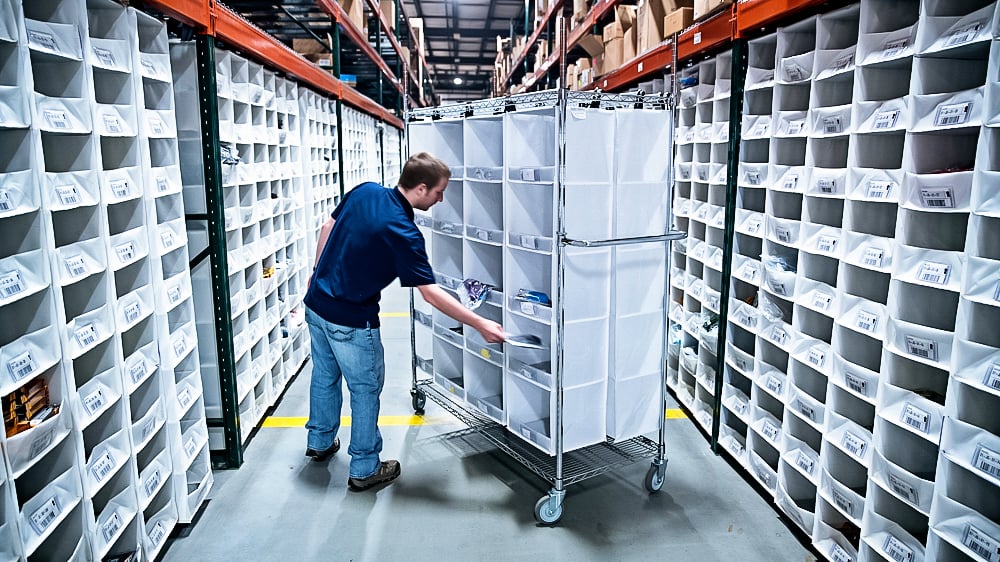 Watersports Superstore Adds Thousands of SKU Locations in Same Warehouse Space with SpeedCell