FAQ
How does FlowCell compare in price to other flow racks like pipe and joint or aluminum extrusions?
Due to its extreme flexibility and modularity, thousands of FlowCell combinations can be engineered to create the ideal solution for your specific needs. This makes it very difficult to provide specific pricing! The average price of our FlowCell flow racks is around $1,000, but to get the most accurate pricing, we recommend designing your solution using our FlowCell configurator. We will send your design straight to your inbox, and one of our Space Optimization Specialists can work with you to refine the solution to meet your unique needs.
What is the capacity of a FlowCell unit?
All FlowCell posts are rated at 10,000 pounds. Mobile FlowCell units are rated at 3,000 pounds maximum (750 lbs. per caster). We recommend considering the weight of the tracks and structure when calculating total loads.
Why should I use FlowCell over pipe and joint or aluminum extrusions or install carton flow into my existing pallet rack?
While it may make sense for you to install carton flow into your existing pallet rack for certain applications, FlowCell may make more sense if you're looking for a modular solution that offers more flexibility and allows for frequent process changes. Here are our top 4 reasons to choose FlowCell over pipe and joint or aluminum extrusions:
FlowCell is much faster to install (30 to 60 minutes per unit).
Pipe and joint systems are not as durable. With FlowCell, you don't have to worry about constantly replacing broken joints.
UNEX offers best-in-class flow with SpanTrack, The Original Carton Flow Track.
FlowCell is a total solution that is tailor-made to meet your specific requirements.Other solutions are sold as more of an "off-the-shelf" kit; because of this, customers purchase parts they don't really need. Another downside to this approach is that customers don't necessarily get the support they need to create solutions that are engineered specifically for their unique applications. Our team of experts will work with you to ensure you are designing a FlowCell solution that will meet your immediate needs and allow maximum flexibility to adapt to process changes over time.
Can I design my own FlowCell unit?
Yes! You can configure FlowCell units using our UNEX FlowCell Configurator. The configurator tool allows you to design your own solution that will meet your specific requirements. You can start from scratch or choose from popular configurations. We will send a 3D drawing of your design straight to your inbox, and a Space Optimization Specialist will reach out to provide you with a quote.
What type of tracks work with FlowCell?
Virtually any type of track is compatible with FlowCell. We recommend using our SpanTrack carton flow rollers or SpanTrack wheel beds. UNEX Cell Track (S5) is specifically designed for use with FlowCell. The track features an integrated hanger/impact/label holder on the charge end and stop/label holder on the discharge end. UNEX Cell Track for trays (S6) is also available. High Profile, Deck, Knuckle, and gravity may also be used.
Companies that Choose UNEX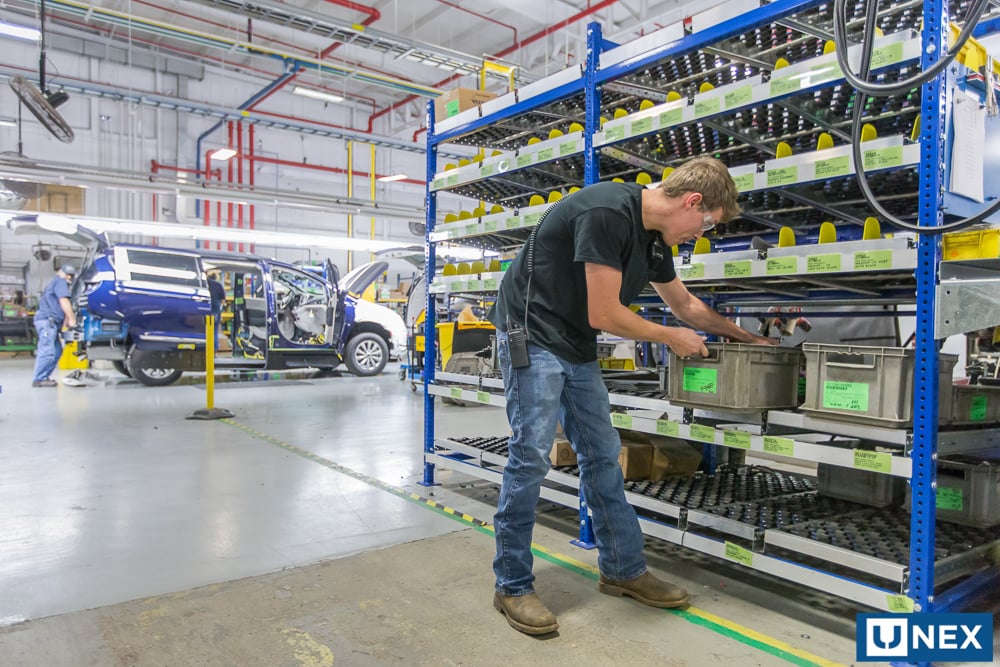 BraunAbility Picks Up the Pace, Maximizes Space with FlowCell Flow Racks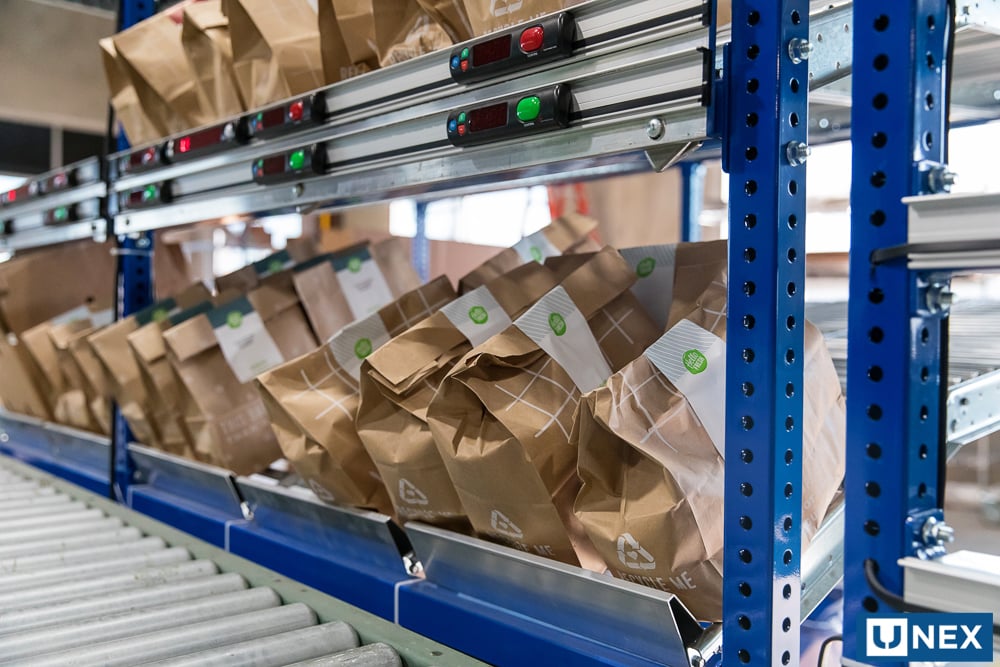 HelloFresh Makes Room for Growth – and Future Appetites, Thanks to FlowCell Flow Racks