Picking Carts
What are Picking Carts?
Picking carts are mobile pieces of equipment used in logistics warehouses, fulfillment centers, and manufacturing facilities to move items from one location to another. Because of their mobility, these units are critical in facilities where product needs to be picked from various locations and moved throughout the operation. A well-designed picking cart will improve speed, accuracy, and worker comfort to increase efficiency and cut costs. Picking carts are ideal for each picking, case picking, or picking and replenishing on the factory floor.

Some fulfillment centers use simple utility or consumer shopping carts to pick product to fulfill orders. However, to achieve maximum efficiency and productivity, a picking cart designed for your specific application will yield the best results. You can save time and money in your operation by choosing the right solution.
Where are Picking Carts Used?
Picking Carts for Warehousing, Fulfillment, & Logistics
Picking carts are commonly used in order fulfillment and logistics warehouses. In these settings, SKUs are picked to carts and moved throughout the building to fulfill orders. This fulfillment model is often referred to as "pick to cart." With this strategy, SKUs are picked from shelves and placed onto mobile picking carts. The products are then moved to packing areas where orders are prepared for delivery. Choosing the type of cart that meets your needs will depend on the weight, size, and shape of the SKUs being stored, as well as the frequency at which they are picked.
Picking Carts for Manufacturing
Picking carts are used in industrial environments where inventory replenishment and parts restocking are frequent tasks. Manufacturing facilities commonly use picking carts to replenish stock, check inventory levels, pick, and put away parts. The types of totes or objects being stored and picked should be considered when determining the picking carts that are best suited for your facility. Static and flow-through options, as well as heavy-duty and light-duty options are available. Mobile picking carts can be built-to-order in a number of configurations to meet the needs of a variety of applications.
Optimize Picking Processes with UNEX
UNEX engineers customized picking carts that are designed to increase efficiency and throughput while improving ergonomics. Because of their agility, mobile picking carts allow busy warehouses and manufacturing facilities to move various items throughout their operations with speed and accuracy. UNEX can create modular order picking carts and mobile carton flow solutions tailored to your needs.
Ready to Connect with an Expert?
Fill out the form below to connect with our space optimization specialists to find the right picking carts for your operation.
Explore UNEX Solutions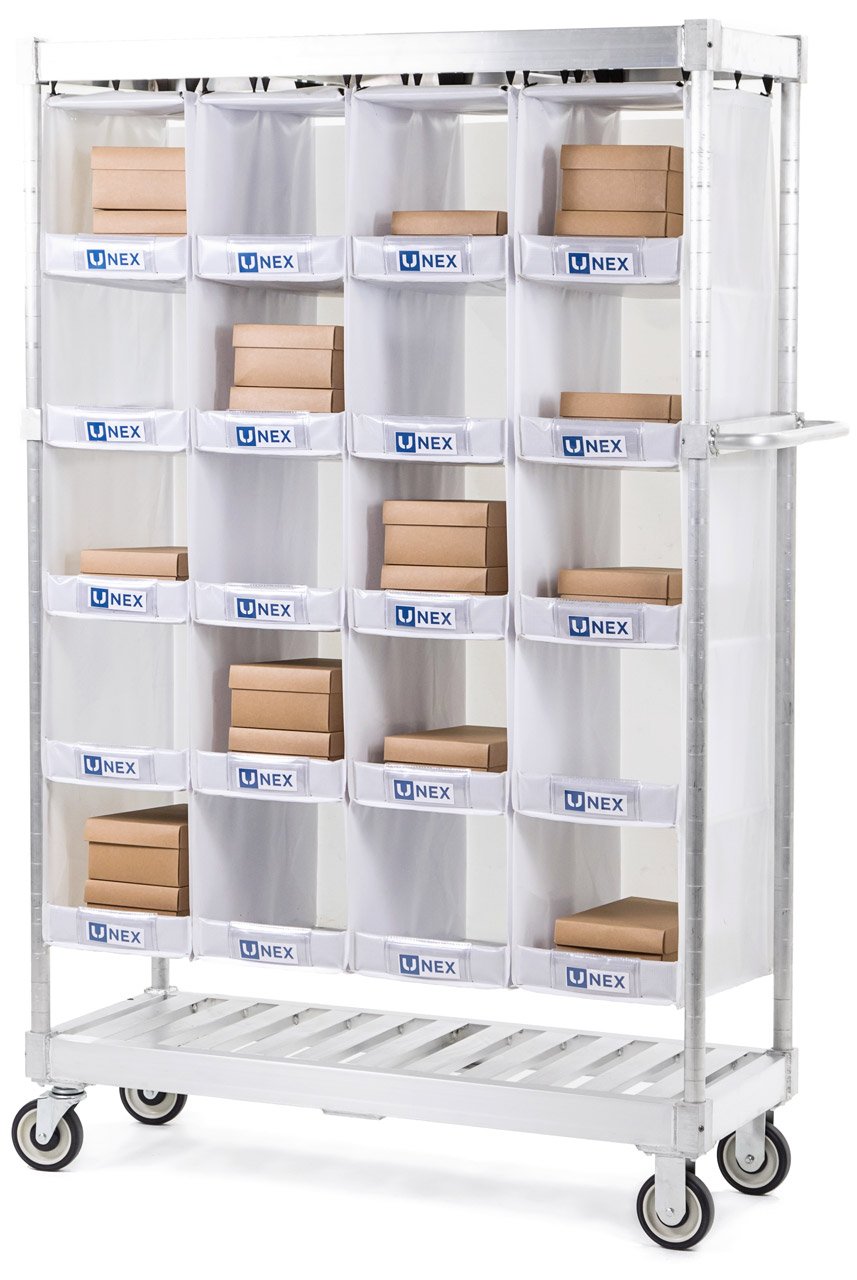 SpeedCartt
SpeedCartt is a mobile, high-density picking cart solution that is reliable in the most demanding environments. Constructed from the same lightweight yet heavy-duty materials as SpeedCell, SpeedCartt improves efficiency and reduces labor costs.
Key benefits of SpeedCartt include:
Increase pick facings
Reduce travel times
Increase order accuracy
Pick multiple orders at the same time for maximum efficiency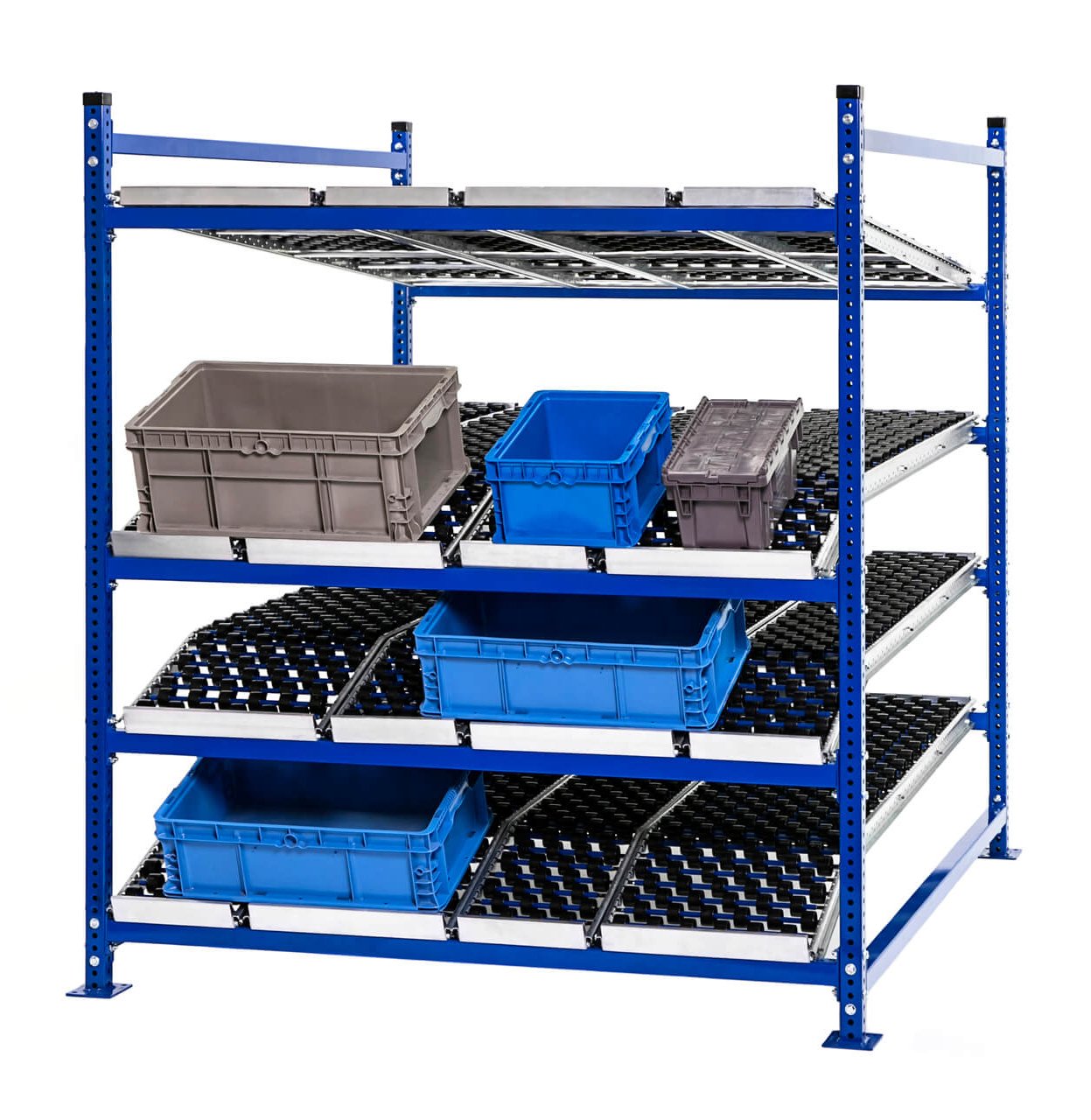 FlowCell
FlowCell flow racks are modular, dynamic storage units designed for a facility's unique operation. Our durable and portable workstations maximize efficiency and space for lineside storage, sub-assembly stations, supermarket racks, modular mobile carts, and more.
Key benefits of FlowCell include:
Increase space utilization by up to 50%
Boost production efficiency by up to 30%
Keep the factory floor organized
Minimize reaching and improve ergonomics by reducing injury and fatigue
Connect with an Expert
Get in touch with our team of experts to learn how UNEX picking cart solutions help maximize productivity and optimize space for fulfillment and manufacturing operations.